EPISODE 2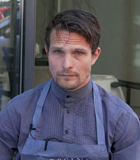 Chef Jonathan Berntsen
Jonathan Berntsen is the head chef and founder of Copenhagen-based and Michelin starred Clou Restaurant. At the age of 20 he started working for Just One restaurant in Bangkok and moved on to work for Les Bacchanales in France the following year. His experience provided him with a perfect combination of Asian and French cuisine. Jonathan went back to Denmark and worked for the Danish restaurants Hurtigkarl & Co and Premisse. In 2012 he became the founder and the head chef of a very special place called Clou.

RESTAURANT CLOU
Twin brothers Jonathan and Alexander Berntsen opened Clou in Copenhagen in 2012. It got its first Michelin star in 2014 and was part of the Guide Michelin Nordic Cities in 2015. Clou is a very personal restaurant. The restaurant's cutlery used to belong to the brother's grandparents, while the art on the walls was collected by Jonathan from around the world. The restaurant's Southern European wine is a special selection curated by Alexander. Clou is a simple yet luxurious place with a friendly vibe and a huge wine cooler in the middle. The food is characterized by flawless craftsmanship and served both as a menu of seven dishes or á la carte.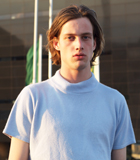 Sylvester Ulv Henriksen -
The Host
21-year-old Sylvester Ulv Henriksen isan international model and has been ranked as one of the Top 50 models in the world on models.com. His unique look has gotten him work with top clients like for YSL, Balenciaga, Trussardi, Numero, GQ, Dansk, i-D, Another Man and many more.
EPISODE 4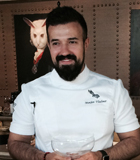 Chef Vladimir Mukhin
Vladimir Mukhin is a 5th generation cook. He started his career when he was 12 in the kitchen of a restaurant where his father worked as Chef. Chef Mukhin later became the first chef in the history of modern Russian cuisine to tour in France –– where in 2009 - along with French chef Christian Etienne –– he held a gala dinner called "Russian Christmas" at the Christian Etienne restaurant. He has been the chef of Moscow-based restaurant White Rabbit since 2012 and with local products and modern techniques, he is considered one of the biggest representatives of modern Russian cuisine.

WHITE RABBIT
In 2015 White Rabbit restaurant was named 23d in a list of the 50 best restaurants in the world. The dining room looks as if it has been taken from a Lewis Carroll fairy tale with paintings of rabbits and rococo furniture. White Rabbit is definitely one of the best places in Moscow for the stunning 360-degree view of the city's historic centre. The famous chef Vladimir Mukhin blends traditional Russian dishes –– from Borodinsky black bread to barrel cucumbers –– with luxury ingredients such as caviar, truffle and foie gras.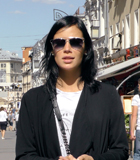 Ekaterina Steblina -
The Host
Ekaterina Steblina is one of the most popular actresses in Moscow. She is one of the leading actresses at Gigol Centre, an internationally acclaimed modern theatre.
EPISODE 3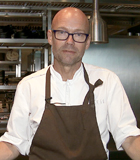 Chef Magnus Ek
Magnus Ek and his partner Agneta Green opened a restaurant called Oaxen on the isolated island of Oaxen near Stockholm. Within a few years it became one of Sweden's most well-known gourmet restaurants. From the beginning Magnus Ek cooked according to his personal philosophy and interest in regionality, sustainability and 'including nature in each course'. Due to weather conditions, Magnus and Agneta decided to move to an island in central Stockholm called Djurgården where Oaxen is now situated.

Oaxen is located right on a river of Stockholm's island Djurgården. The restaurant is divided into two parts –– the Krog restaurant which has two Michelin stars, and Slip, a unique Norse bistro. Both spaces specialize in local, Nordic, and seasonal cuisine. All of the vegetables and herbs Magnus uses are sourced from Djurgarden island. Even the steak knives, porcelain, and the dining tables have been made at the local shipyard just a few metres from the restaurant.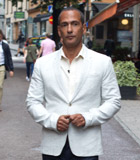 Fredo Kazemi is the director of two modelling agencies –– Elite Stockholm and Modellink. Both agencies represent some of the world's most famous models including Isabel Fontana, Sigrid Agren, Eniko Mihalik, Cara Delevigne, and Sasha Luss. Under his direction Elite Stockholm became one of the Scandinavia's top agencies.
CONTACT INFORMATION:
Oaxen Krog & Slip
Beckholmsvägen 26
115 21 Stockholm, Sweden
+46(0)8 551 531 05
www.oaxen.com
EPISODE 5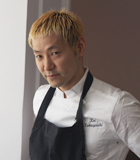 Chef Kei Kobayashi
Kei Kobayashi is originally from Japan and moved to Paris to learn "haute gastronomy". Kei started travelling and exploring French provinces to better understand the depth of French gastronomy. He went back to Paris and started work with the famous chef Alain Ducasse. After 7 years, Kei opened a chic restaurant which has now earned Michelin stars.

KEI
Kei was opened in 2011 and is located in the old Gerard Besson near Les Halles, which is in the Palais Royal neighborhood in the 1st district. With its sophisticated grey and silver design, amazing wine cellar, aristocratic atmosphere and unique cuisine - everything is just perfect. It's no wonder that Kei is a Michelin starred restaurant.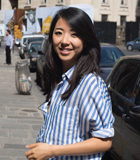 Yuyu is a famous fashion blogger. Yuyu is the brand ambassador for Kenzo, Pierre Hardy and YSL Beauty. She has collaborated with many famous fashion houses like Moschino, Louis Vuitton and Mulberry. She is the founder of YUYUFASHIONBOOK and her street style snaps have been featured in Vogue, Elle, Glamour, W Magazine, Marie Claire and GQ.
EPISODE 1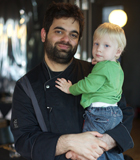 Chef Gal Ben-Mosche
Gal Ben-Mosche is originally from Israel and has traveled around the world before settling down in Berlin. Gal has been passionate about cooking since his childhood. In 2002 he started to work for Tazza d'Oro, a modern cafe in Tel Aviv, and then worked in gourmet restaurants like Mul-Yam and Orca. Gal spent a year in London working with Marcus Wareing at The Berkeley, Maze by Gordon Ramsey and at Hibiscus. In 2009 he went back to Tel Aviv to work as the chef at the Hotel Montefiori. Two years later he was in Chicago working with Grant Achatz at Alinea. This wide experience of different cuisines and cultures led to the perfect combination of flavors that Glass is now famous for.

GLASS
Glass is a beautiful modern restaurant located in the West part of Berlin, where haute cuisine meets minimalist design. The atmosphere is very welcoming, with some of the dishes––including the famous secret dessert––being delivered by Chef Gal Ben Moshe himself. Glass is one of the most popular high-end restaurants in Berlin.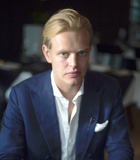 Sebastian Hoffmann -
The Host
Sebastian Hoffmann is a director and the chief curator of the Patrick Ebensperger gallery. He was born in Berlin and studied the History of Art. As a student, he started working for the Modern Art dealership in 2006 and then continued working for Modern, Contemporary and Post War art galleries in Berlin, London, and New York. He helped organize exhibitions for artists like Andy Warhol, Hanne Darboven, ZERO, Alois Mosbacher and David Moises.
CONTACT INFORMATION:
Glass
Uhlandstraße 195,
10623 Berlin, Germany
+49 30 54710861
www.glassberlin.de
EPISODE 6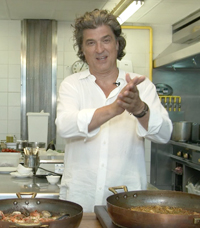 Chef Carles Abellan
Carles Abellan is one of the most famous chefs in Spain. He is the head of 8 restaurants including Commerce 24, Tapas 24, Ena and Bravo Kitchen - which is located on the rooftop of the first W Hotel in Western Europe. Each of them has their own character and a unique combination of gastronomy, design and service. Carles began his career at El Bulli where he trained and worked for 15 years. He has won plenty of accolades for Comerç 24 and his tapas gastrobar Tapaç 24, getting a Michelin star for the former, which serves El Bulli-esque molecular gastronomy. He was recently chosen to head the kitchen of the new W Barcelona.

BRAVO
Bravo is located on a rooftop of W Hotel with a wonderful view of the Mediterranean Sea and the city. Carles Abellan, the chef, combines traditional tapas with modern interpretations, making for a tasty culinary experience.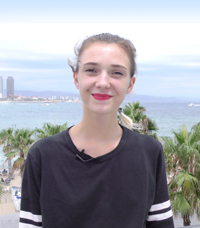 Andrea Servert -
The Host
Andrea Servert is an online coordinator at the Barcelona- based fashion, photography and art magazine Metal. It was first launched in 2006 as an independent publishing project and is now being sold in more than 20 countries. Andrea was born in Madrid and has spent the last 15 years in Barcelona.